How to Survive Fuji Rock Festival
Going to Fuji Rock Festival this year?
I went to the Festival twice in 04 and 05. Both times I had a really fantastic time. 04 was much better than 05 as it poured down for much of the weekend redering the whole place a mudbath.
Go prepared:
If you are into sleeping then take a tent. Alternatively you can stay in the Prince Hotel. I would imagine that's where all the acts stay so book ahead. Other things to take: a torch

Toilets:
Most of the toilets are of a Asian squat type style which depending on how adept you are at using are fine for the first day. After that, be prepared to deal with a great lack of cleanliness. If you've been to other music festivals then you can probably understand. 'Sit down' toilets can be found but I think they only have a limited number- ten or twenty around the site. They may take some finding but there are usually somewhere around the Palace of Wonder. Spot them by looking for toilets that are slightly shorter than the squat toilets. 
Queuing for the toilets:
Avoid the long queues- go to the front of the line and you will probably find an empty toilet (looking for colours on the lock should guide you). The folks at the front of the queue often don't spot the empty toilets and instead look for others coming out. It could save you a bit of time- especially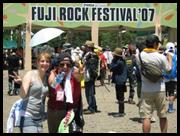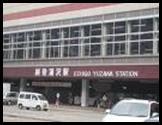 if you bursting for a pee.
Of course you avoid the queues altogether by doing it the trees… 
Get there early:
If you are going on Friday then take the day off on Thursday and go then. The camp site is open from Thurs morning, the bus service is running and the ticket office is open. Otherwise you face long wait time to get the bus from Etchigo Yuzawa to the site and another long wait to get your armbands.

Heat:

Take loads of sunblock. If you do get sunburnt there is a first aid tent near the Green Stage. Oddly enough however, they didn't seem to have an awful lot of resources to deal with sunburn- a bag of ice seemed to be the best they could come up with when I fell foul of the sun. 
Mornings are a bit of a nightmare unless you are keen on saunas. The sun comes up at around 7am and if your tent is not protected by shade then you may awake lying in a pool of your own sweat or something else wet.  
Take a battery charger:
In the event that you manage to get some kind of cellular network signal (due to the sudden invasion of thousands of phones) the last thing you want is your battery dying. You can get it charged at stations around the site, expect to pay a couple of hundred yen to get a few hours charge. It's probably easier to take a portable battery powered charger or a wind up/ solar charger.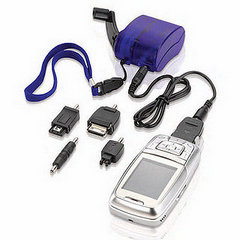 Communications are difficult so don't rely on phones to set up rendezvous- if you part from the people you're with then set up a place and a time to meet.
Alcohol:

Beer is 500yen for a paper cup of Heineken. If you want a decent drink- stock up with vodka or whatever your poison may be and mix it before you enter the gate to the stages- your tent may be a good place and take it down with you. Security check bags etc for beer or anything which could possibly be conceived as alcohol. So if you mix it with coke (cola) in a coke bottle, you may fool them as you ate allowed to take in soft drink bottles. If you like neat vodka then a water bottle would do the trick.   
Comments (4)
What's Yours?